Welcome to Nowhere
Welcome to my personal website. It's a code playground, a place to share my thoughts and current projects, and a place where you can get in touch with me. Feel free to poke around, and let me know what you think of the new design. You don't have to take your shoes off here, but if you take a beer from the icebox, I'd appreciate it if you grabbed one for me, too.
Blog Post: Behind the Boom
Unless you have been living under a rock, you have probably heard stories of rich oil reserves in North Dakota. I'll bet that most of you probably didn't realize North Dakota was even a state. Well, it is, and the stories of great wealth are true. I've spent most of the last decade in North Dakota, and I was fortunate enough (or unfortunate enough, depending on your view) to see the boom take root and grow. I watched the empty prairies and badlands go from a place of great solitude to a place of 'round the clock industrial activity. The sudden transition has been nothing short of incredible.
This post was written as much for me as it was for you - through this brief analysis, hopefully we can both understand just what the big deal is about North Dakota crude. I will discuss the geology, the history, the recent trends, and also some personal reflections on the Bakken Boom. Continue reading.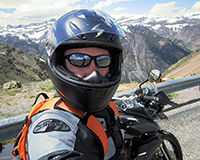 Two wheels move the soul
Motorcycles are one of my passions, and they are an important part of my life. Earlier this spring, as a reward to myself for finishing my masters and a means of initiating a transition in my career, I embarked on a three-month long, 15,000-mile journey around the United States. It ended up being the greatest experience of my life to date. Read all about it here on my motorcycle blog.